Congratulations to the winners of the Red Wing For'em Club 2016 Charity Raffle Drawing, which took place on Sunday, July 10, 2016.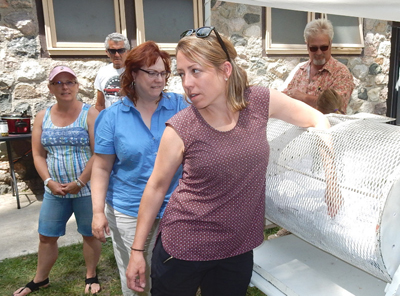 1st Place Winner of 2016-2017 Season Tickets:
Emily from Shepherd, MI
Ticket # 087290
2nd Place Winner of Jimmy Howard Signed Jersey:
Donna from Taylor, MI
Ticket #103501
3rd Place Winner of $300.00:
Heather from St. Clair Shores, MI
Ticket # 091818
The lucky winners of this year's raffle will be posted on our website after the lucky
winning tickets are drawn at our Annual Picnic on Sunday, July 9th, 2017.

The Detroit Red Wing For 'em Club was founded in 1949 by a group of enthusiastic hockey fans to support the Detroit Red Wings and to promote the sport of hockey. The club is an organization of people from all walks of life with a common avocation – the Detroit Red Wings. Although our early years did not involve keeping records, the early members began the practice of getting together for social events as a club as well as attending out of town games. They also began to do things to help charitable causes, and the early years were devoted to youth hockey in the Detroit area.
In 1971, the For 'em Club was one of the four charter members that founded the National Hockey League Booster Clubs Inc. Today that organization still thrives and is composed of officially recognized booster clubs from across North America. We have been lucky to have been the host city for the national conventions in 1972, 1990, 2004, 2009 and 2015. Even clubs that have lost their hockey teams over the years have remained as members and still interact with other clubs as well as doing charity work in their home cities. This is a real tribute to all hockey fans!
As part of the interaction with the Red Wing Organization, a trophy is presented annually to a member of the Red Wings organization as our "Unsung Hero." We host an annual picnic, bowling parties and other events. Also, we plan many road trips to see our Red Wings play in other arenas across North America, and we host other booster clubs when they visit us here in Detroit. Our newsletter is called the Fanfare, and it includes information on club events, club members and info from other booster clubs as well. We also raise funds for our club charities through our season ticket raffle. Each year, we sell raffle tickets with the Grand Prize of a pair of season tickets for the regular season. All the monies raised from this effort will go to charities.
Many years have passed since 1949, and it is with justifiable pride that we look at our accomplishments and those of our Red Wings. There are very few NHL Fan Clubs that can boast of being a part of some of the most exciting years of hockey. Our teams may not have always been the best, but we were always there to support them.


Our motto has and always will be: For 'em – Win or Lose!!!