We are the Red Wing For 'em Club, the official fan club of the Detroit Red Wings. We have been in existence since 1949, and are a charter member of the National Hockey League Booster Clubs, Inc. The purpose of the Club is to stimulate and promote, in all ways, a greater interest in the sport of hockey.
We offer both Active and Associate memberships in our club. To qualify for active membership, you must be at least 18 years of age and live within a 50 mile radius of Detroit (Detroit/Windsor Tunnel). An associate member must be at least 18 years of age and live beyond a 50-mile radius of Detroit.
Both memberships are entitled to the many benefits of the Club as follows:
Social Events: Annual Picnic, Bowling Party, Card Party, Camping Weekend, Hayride & Bonfire, Chili Cook-Off, Tiger games and other events.
Trips: Road trips to NHL and AHL cities throughout the season. A chance to see a Detroit Red Wings away game and to meet members of other NHL Booster Clubs in their city.
NHL Booster Clubs Convention: A chance to attend the annual booster convention in one of the league cities (a different city each year). This is a wonderful opportunity to meet members of the other Booster Clubs in the league. An exciting weekend of fun with people who share the same thing in common – HOCKEY!
Charities: Donate time to help raise awareness and funding for Gilda's Club and Turning Point.
Fanfare: Monthly Club Newsletter – wide variety of articles (events, press releases, news of other booster club's activities, etc.) and photos documenting the month.
Join the Fun!
Be a For 'em Club Member!



Click here to download a active membership application (within 50-mile radius of Detroit).
Click here to download a associate membership application (beyond 50-mile radius of Detroit).



General meetings are usually held during the third week of the month at the Gaelic League Irish-American Club in Detroit (dates are based on the Detroit Red Wing's game schedule, check the website for updated meeting dates).  Meetings begin at 7:00 PM and guests are welcome to join us anytime.
During the meetings, officers and committee members present their monthly reports for each segment of the club. We also discuss upcoming events and information, as well as celebrate member birthdays that month. On occasion, we have guest speakers visit the meetings for a behind-the-scenes look at the Red Wings organization, such as radio play-by-play announcer Ken Kal and former team trainer John Wharton. At the start of each season, we often have a representative visit from Olympia Entertainment to discuss any new arena policies, customer service practices, and how to present ourselves as an extended valuable member of the Olympia Entertainment team.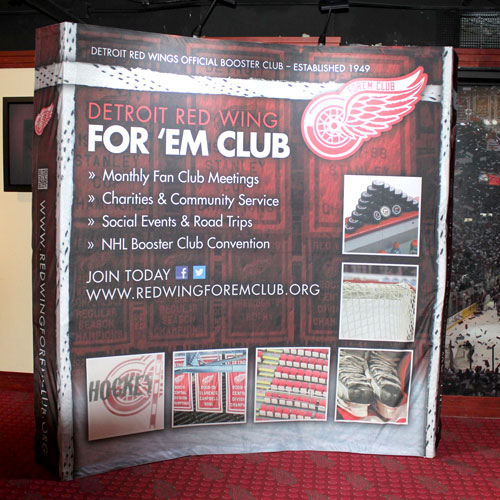 Our club booth is set up at every home game during the regular season inside Little Caesar's Arena. The booth is staffed by club volunteers (each game) who can provide a thorough background on the For 'em Club, as well as selling raffle tickets to fans, with proceeds benefiting Gilda's Club. The annual raffle winners are announced in July at our club picnic, and the top prize is a pair of Detroit Red Wings season tickets!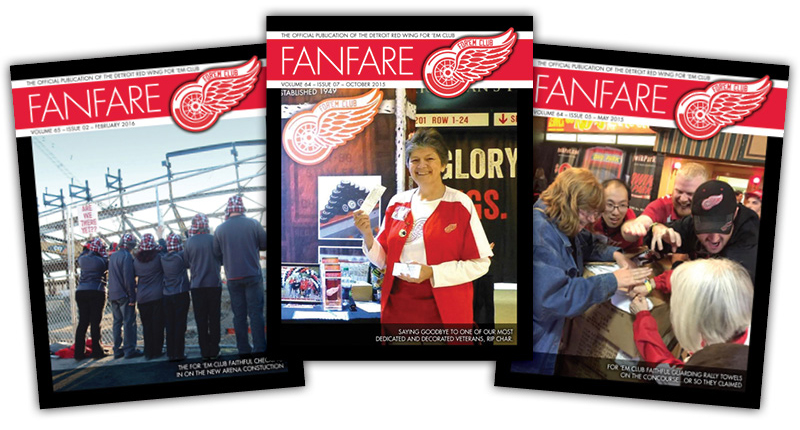 Fanfare is our monthly club newsletter, published every month during the season, with two combined issues in the summer months (June/July & August/September). It highlights club members on the cover of each issue, some working at events, and some having fun in a social setting.
Each month includes committee reports such as meeting minutes, yearly elections, birthdays, upcoming games and events, charitable and social outings, future road trips, national convention updates and tons of fun photos. Club members provide nearly all of our photos, always representing a lively and sociable group.